When you are looking for house insurance, are you aware of what type of locks your property is fitted with? Do you know the difference between a deadlock and a deadlatch? Here at ARM Locksmiths based in Hailsham and serving the areas of Heathfield, Polegate and Uckfield, we are aiming to demystify this vitally important area.
The age, style, construction and location of your property will significantly influence the kind of security measures that you will need not only to satisfy insurance issues but also and perhaps more importantly to keep you and your family safe by maximising security.
Exterior Door Locks
Here, you will need to consider the construction of the door, whether wood or UPVC and the type of the door, for example patio or French doors.
Five-lever mortice deadlock
This is perhaps the most common lock and it is a standard deadlock. It only offers moderate protection and is lockable from either side and can be used with a nightlatch for added security. The locking mechanism is "morticed" (embedded) into a slot in the door and the strike plate is fitted to the door frame and a key is always needed to operate the lock. It's interesting to note that
the face plate of the locking mechanism will usually denote how many levers the lock has. This is a very common lock for a wooden door.
Five-lever mortice deadlock conforming to BS3621
This is similar to the above but has extra security features built into the design including hardened steel plates and anti-pick features. It is important to note that UPVC and aluminium doors and often composite doors cannot be fitted with this type of lock. The lock will be stamped with the British Standard 3621 Kitemark, normally on the face plate of the locking mechanism.
Key-operated multi-point locking system
This provides for a high level of security as it bolts the door into the frame and locks at multiple points at the turn of a key. There are a minimum of three locking points that all lock simultaneously with the turn of a key. These types of locks can be found in modern houses and they are very suitable for UPVC and composite doors including patio and French doors. You will find that you are able to lock your door more securely from the inside.
Rim automatic deadlatch with key locking handles
This is mounted on the inside of the door and a cylinder within the lock connects to the keyhole on the outside of the door. These are usually used as an extra security measure and not as a main locking mechanism. With this type of lock the door is locked and unlocked by key from either side.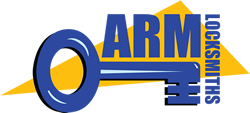 Conclusion
Here we have outlined 4 of the most common types of lock which insurers will need to know when you apply for cover. It is important to note that if you don't have the right locks, you may struggle to get cover at a reasonable price.
If you are concerned that you don't have the most suitable locks in place at your property, locks that offer the most security, please contact ARM Locksmiths based in Hailsham in East Sussex by calling 07521 701514 or email locksmith@armlocksmiths.com