Home safety and security should be one of your top priorities. The UK Police website states that Homes with no security measures in place are five times more likely to be burgled than those with simple security measures. Strong deadlocks on doors and good window locks can make a huge difference in preventing a burglar from gaining access to your property.
UK Burglary statistics report that in 72% of cases the burglar will gain entry to your property through a door and in 15% of these cases the door is actually unlocked. In 27% of burglaries the door lock is forced to open the door.
Carry Out Regular Door Checks
Many burglars come through doors and so it's important that your doors are strong and secure. Doors are easy things to take for granted but you should carry out regular checks of the following:
Alignment
Hinges
Swelling
Frames
Hardware (Locks and Handles)
Alignment
Alignment problems often occur in UPVC doors which are heavy and this can eventually impact on the locking mechanism. Ensure that your doors are still neatly aligned and can be easily locked.
Hinges
Check door hinges regularly to make sure that they are secure. Weathering and dirt can cause hinges to rust and break. This is less likely in house doors which are used regularly but quite common in outbuildings, sheds and garages which may remain unopened for weeks and even months on end. It's a good idea to keep hinges oiled which can save on replacement in the long term.
Swelling
Swelling is caused by seasonal changes which cause alterations to the inside humidity which leads to wooden doors expanding and contracting. Check where the door is swollen and sand lightly if possible. Check for loose screws and hinges and tighten and oil where necessary.
Door Frames
Swollen, warped or cracked door frames can prevent a door from not only opening and closing but also from being locked. There are many factors that contribute to the deterioration of a door frame including age, misuse, moisture and temperature changes. Again ensure that frames are checked regularly.
Locks and Handles
Locks and handles are the most stressed and used parts of the door hardware and are thus prone to failure and over time they will simply wear out and need repairing or replacing.
Door handles can become loose and insecure and may fall off to reveal the spindle or they may fail internally whereby the spindle is no longer engaged when the handle is turned.  In both scenarios the handle will need replacing.
Why do locks break?
Why a door lock has failed is not always straightforward and there could be any number of reasons.
The key snaps in the lock
The lock seizes up
The locking mechanism breaks internally (whole or part)
For broken handles and locks, it is important that you have them repaired quickly and calling your local recommended locksmith is the best course of action.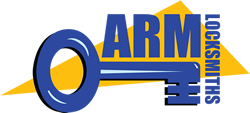 What to do next
If you have any concerns about the locks on your doors and how secure they are, please contact our friendly and knowledgeable team on 01323 441019 who will be delighted to help and offer advice on what type of locks are best for your property.
Arm Locksmiths are your local locksmiths helping clients throughout East Sussex serving the communities of Hailsham, Eastbourne, Uckfield and Lewes.